Highest Awards Overseas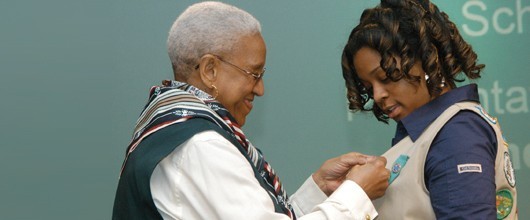 Bronze. Silver. Gold. The Girl Scouts Highest Awards represent the highest honors a Girl Scout can earn. 
All three awards give you the chance to do big things while working on an issue of great importance to you. Whether you want to inspire others to eat healthy by planting a community garden in Germay for your Bronze, advocate for animal rights in Kenya to earn your Silver, or develop a sustainable program supporting literacy in Bhutan to earn your Gold Award, you'll inspire others (and yourself).
USA Girl Scouts are making a difference in over 150 communities around the world!  Take a look at some of the ways Girl Scouts Overseas are making positive change in their community.
As a Girl Scout living overseas, you have the incredible opportunity to earn a Highest Award. Juniors through Ambassadors from around the globe can to change the world while earning a prestigious Girl Scouts' Highest Award.  Click on an award below to find out how you can earn your Highest Award with USAGSO.

Click here to access general information on Highest Awards from the Girl Scouts of the USA.