Lifetime Membership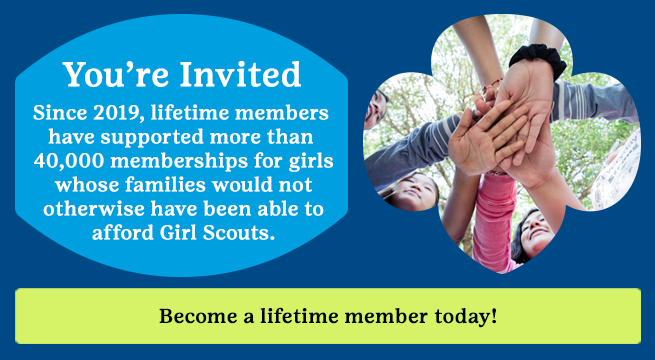 Celebrate girls who are changing the world today and for generations to come as they learn cutting-edge skills, work to protect and preserve the environment, explore new technology, and so much more. Girl Scouts' essential programming fosters courage, confidence, and character in girls, preparing them for a lifetime of leadership. You can champion the next generation of change-makers by investing in the world's largest leadership development organization for girls!
Now, when you sign up as a lifetime member, $25 of your dues automatically fund a year of Girl Scouting for a girl in an underserved community in your area.
Plus, purchase a Lifetime Membership by June 30, 2022, and receive a free Lifetime Membership pin!
---
Who is Eligible?
Lifetime membership is available to any individual who accepts the principles and beliefs of the Girl Scout Movement, pays the one-time lifetime membership fee, and is at least 18 years old (or a high school graduate or equivalent).
---
Membership Options
Adults, Supporters & Volunteers, 18 years or older - $400.00
Volunteers with 10+ years of volunteer service - $200.00
Girl Scout Alums who are under the age of 30 - $200.00
For for information about lifetime memberships and the exciting benefits click here.