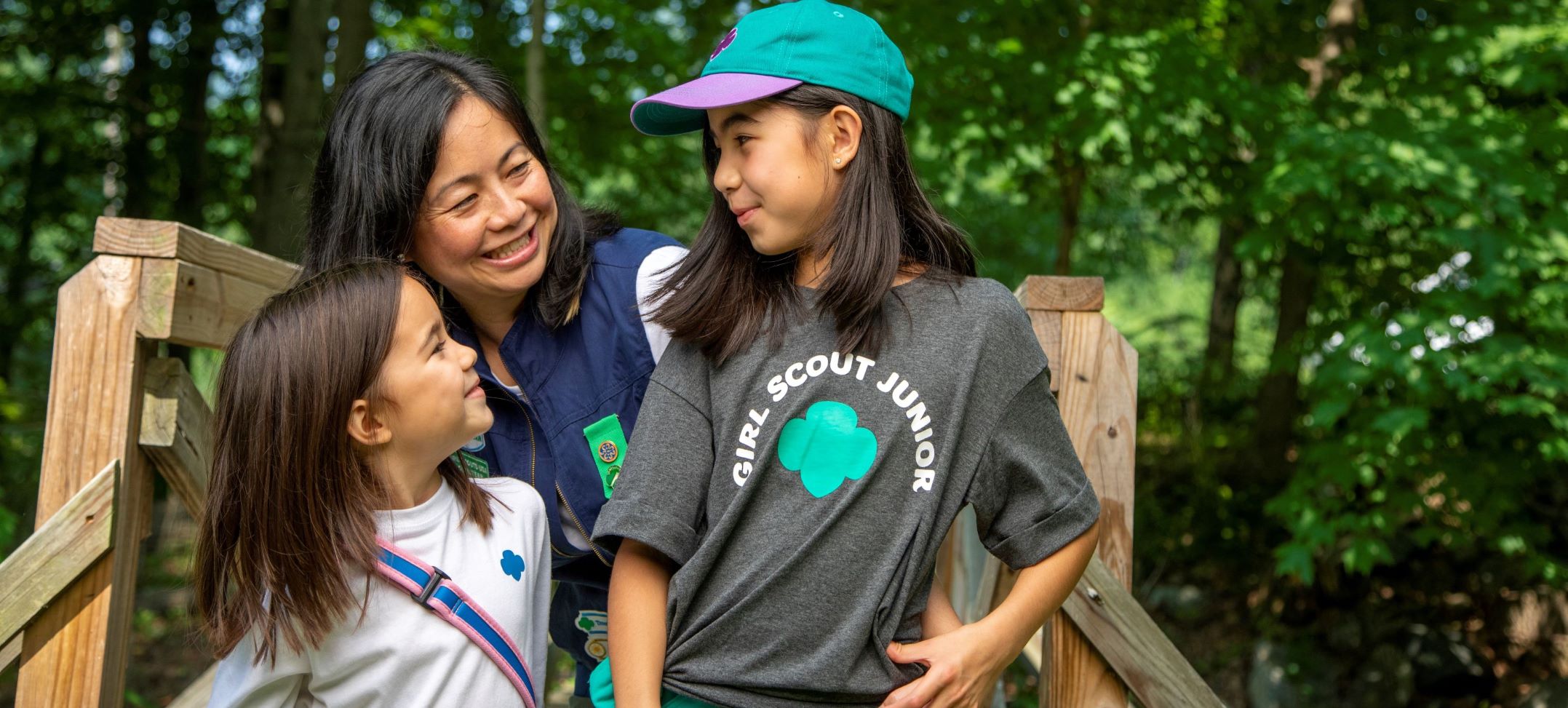 Every day, USAGSO volunteers help girls discover their full potential by providing opportunities that allow them to pursue their interests and passions, develop their own leadership style and skills, and build cross-cultural connections and relationships that last a lifetime. USA Girl Scouts Overseas cherishes our volunteers and recognizes the valuable contribution they make in developing girl leaders.
We are excited to recognize our USAGSO Adult Award Recipients in this special Hall of Fame!
Girl Scout Adult Awards recognize those who provide exemplary service and go above and beyond the expectations of their position to make a difference for the organization and for girls. Click on the tabs below to review our Adult Award recipients. 
Prior to 2019

Appreciation Pin

Kathleen Fitzsimmons
Millie Kneeland
Zoe Milak
Arjean Smith

Honor Pin

Robyn Calhoun

Thanks Badge

Kathleen Fitzsimmons

2019

APPRECIATION PIN

Courtney Adkins
Jennifer Allen
Amanda Atchley
Kashmira Baldauf
Paola Bianchi
Stacy Bosco
Melissa Brewster
Diana Browne
Madelyn Burchard
Maureen Canham
Jenni Casey
Elaine Chan
Katie Cheng
Ann Chow
Katie Collins
Cindy Cornejo
Joanna Corsaro-Georgiou
Lynette Coyne
Marty Crandall
Desiree Davis
Daniel DiCampli
Rebecca Dinari
Lauren Fish
Josianne Fitzgerald
Angela Gillen
Laura Gilluamin
Elizabeth Goldblatt
Christina Greveldinger
Natasha Hodges
Tracey Johnson
Katherine Khoo
Jessie King
Elizabeth LaFlamme
Sue Lake
Sabrina Lim
Sarah Jane Lindsey
Nicole Little
Susana Lopez Fernandez
Tonya Lowery St. James
Myla Ma
Eavan McDonald
Kevin Meek
Hina Mushtaq
Heather Napier
May Nogoy
Joy Pablo
Miriam Padron
Brittany Parker
Stephanie Petteway
Andria Quinata
Nicole Rahter
Nicole Reyes
Misty Richmond
Jennifer Robertson-Jones
Jodi Saiki Flint
Lori Schmidt
Josh Sciarratta
Ruth Anne Stevens Klitz
Ann Thrift
Jennifer Thym
Sara Torosian
Erin Twamley
Fé Valvekens
Ally Van Valen
Rebecca Wasinger
Donna Weaver
Anne Whisenant
Leticia Worrell
Jessica Yates
Anita Yu Yu
Gloria Zarate

HONOR PIN

Amanda Atchley
Aimee Beck
Tonia Brown
Jenni Casey
Terra Cassanova
Heather Chauret
Andrea Douglas
D'Anna Hohe
Keli Kelley
Heather Lidowski
Jessica McCollum
Christina Miller
Sarah Thompsom
Rachel Wayland

THANKS BADGE

Ráchel Roché Walton
Carol Weiss Pouchol
 

2020

APPRECIATION PIN

Cynthia Allen
Paula Andreoli
Jessica Beck
Zenaida Bharucha
Diane Boettcher
Brandy Brosnan
Magali Burns
Heather Christian
Kim Collell
Christie Colton
Susan Cruz
Sonja Dalton
Daniel DiCampli
Cindy Foley
Aileen Franchi
Monica Frost
Lauren Gaughan
Amanda Grill
Kayla Hand
Moraima Hathaway
Rachel Kluger
Carley Lannert
Kimberly Liang
Saadia Mahmood
Kristi Maki
Lennae Marion
Donna Mulkern
Stacie Pollock
Katie Ramos
Emiko Ray
Amanda Rice
Charity Schwegman
Vicki Shaffer
Tracy Shelton
Maricela Sierra
Jacelyn Splichal
Gaby Toloza
Amy Tuxhorn
Erin Twamley
Fiona Van Tyne
Lara VanDercreek
Mumtaz Waheed
Jackie Watson
Susan Williams
Apryl Woods
Jennifer Yabrough


HONOR PIN

Laura Anderson
Sarah Angle
Hadley Barth
Jill Carter
Kerry Clark
Heather Lidowski
Susana Lopez Fernandez
David Moss
Jessica Pabon
Nicole Reyes
Andrea Zabel


THANKS BADGE

Rebecca Dinari
Amy Kennedy-Penuel
Melinda Murphy Hiemstra
Kimberley Petyt
 

2021

APPRECIATION PIN

Danica Allen
Cheryl Barber
Katrina Bens
Zaidy Berrios
Daniel Blair
Jamie Blair
Kayla Bruzzese
Christine Conlow
Sarah Ehrlich-Cabrera
Laurinda Everett
Meg Fraim
Katherine Hansen
Sarah Jones
Amy Koles
Sarah Lindsay
Kristi Maki
Kristen Nawrotzki
Lisa Ouazzani
Leslie Oversteyns
Jessica Pabon
Carrie Pearson
Mazalenna Rhodes-Holmstrom
Shellii Roach
Christopher Rousseau
Cathleen  Salsbug-Pfund
Vanessa Smith
Molly Standard
Janet Surrett
Amy Tuxhorn
Vanessa Vaughan
Jackie Watson
Chelsey Watts
Rachael Wayland
Jessica Wilhide


HONOR PIN

Victoria Ann Henderson
Heather Lidowski
Bethany Ore
Cindy Rountree
Lori Schmidt
Mary Wheatley


THANKS BADGE

Tonia Brown
Lorel Flecha
Jennifer Myer
Apryl Woods


THANKS II BADGE

Ráchel Roché Walton
 

2022

Appreciation Pin

Justleen Alosima
Wendy Bayer
Lauren Beecher
Jessica Blacknall
Michelle Burnette
Karen Castellon
Ashley Courts
Bianca DuBois
Jenny Eveland
Shenica Grant-Santos
Rebecca Kaplan
Mekayla Korpinen
Tabrin MacNicholl
Myra Mata
Lawryn Maxwell
Shawna Noel
Maria Politte
Isabella Qiaoyan Luo
Sidney Rondorf
Maria Sampaio
Krystal Swift
Melissa Terrio
Sarah VanBuren

Honor Pin

Desiree Blickens
Marlieke Eaton
Melissa Hall
Zoe Kalinowski
Rachel Kluger
Susana Lopez Fernandez
Donna Mulkern
Vanessa Smith
Molly Standard
Arjean Smith

Thanks Badge

Kristina Lachaga
Erin Twamley

Thanks II Badge

Amy Kennedy-Penuel
Carol Weiss-Pouchol
---
Did you receive an Adult Award from USAGSO in previous years? We'd love to know about it and recognize you in our Hall of Fame! Please complete this form to be listed.

Would you like to learn more about nominating an adult for an award? Check out our Adult Awards page for more info!