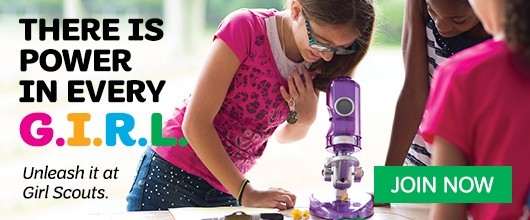 When you unleash your inner G.I.R.L., you can accomplish anything!
At Girl Scouts, the next opportunity to stand up, speak up, and take the lead is never far away. With us, you'll discover the G.I.R.L. (Go-getter, Innovator, Risk-Taker, Leader)™ in you, and watch her shine, again and again. With us, the possibilities are truly endless. Discover all you can be and everything you can accomplish when you have the right tools and a safe space to shine—and work together to change the world.
So what are you waiting for?
Online Registration Tips & Tricks:
A girl membership fee is $45. This includes a $25 GSUSA membership due and a $20 GSO council service fee. 
If your Girl Scout is a current member, please register through your online MyGS account.
If you have a MyGS account, please add family members who are new to Girl Scouts through the "Add a New Member" link found under the membership tab.
If you are transferring from a stateside council to overseas, please complete this form before registering.
For members based in Singapore, please contact us before starting your registration. 
Always use either Google Chrome or Mozilla Firefox as your web browser.
Do not hit the back arrow, this can cause an error. 
In the opportunity catalog: if you do not see your troop listed, select "unsure" and then tell us the troop #, community, and the name of the troop leader in the box that will popup upon the selection of unsure. 
For error messages: please take a screenshot of the message and contact us right away. Very important-- do not start over, this will cause additional errors.
If you are paying with a U.S. credit card, you will have to enter the state again after the country selection on the billing information page. 
Financial Assistance Information
Girl Scouts offers every girl a chance to do something amazing, go on fantastic new adventures, and change the world. As such, no girl will be denied access to Girl Scouts Overseas because of an inability to pay the cost of membership. Please contact your Overseas Committee Management Team to request financial aid. If you need further assistance or aid, please fill out this form. After you submit the form, a USAGSO representative will be in touch with you to help you complete your registration. If you have any questions, please contact our Customer Care Team. 
Need to know more so you can decide what's right for you? Check out all the different ways to take the lead at Girl Scouts. Or, see all the exciting possibilities Girl Scouts offers for girls of all ages and choose your adventure.